Innovation through
SCIENCE & ENGINEERING
Anric technologies focuses on technology and innovation in the areas of thin film deposition with a special focus on Atomic Layer Deposition.
FOR RESEARCHES

『 Anric Technologies provides solutions to challenging thin film deposition applications. Find out if ALD is right for you and how the Anric Technology deposition systems yield the optimal combination of speed, flexibility, and price. 』
FOR INDUSTRY

『 Find out how an Anric Technologies ALD system leads to quick process development iterations, with the lowest COO, and simple yet flexible system control. 』
FOR INSTITUTIONS

『 For multiuser environments, the Anric ALD systems offer flexible material growth combinations, strong safety controls, and the best combination of price and capabilities on the market. 』
ALD Features & Specs
Atomic Layer Deposition System; the tool boasts capabilities that meet or exceed those found in other tools on the market, while being easy to use and maintain - at a cost well below what can be found on the market today. Anric Technologies (MA, USA) focuses on technology and innovation in the areas of thin film deposition with a special focus on Atomic Layer Deposition.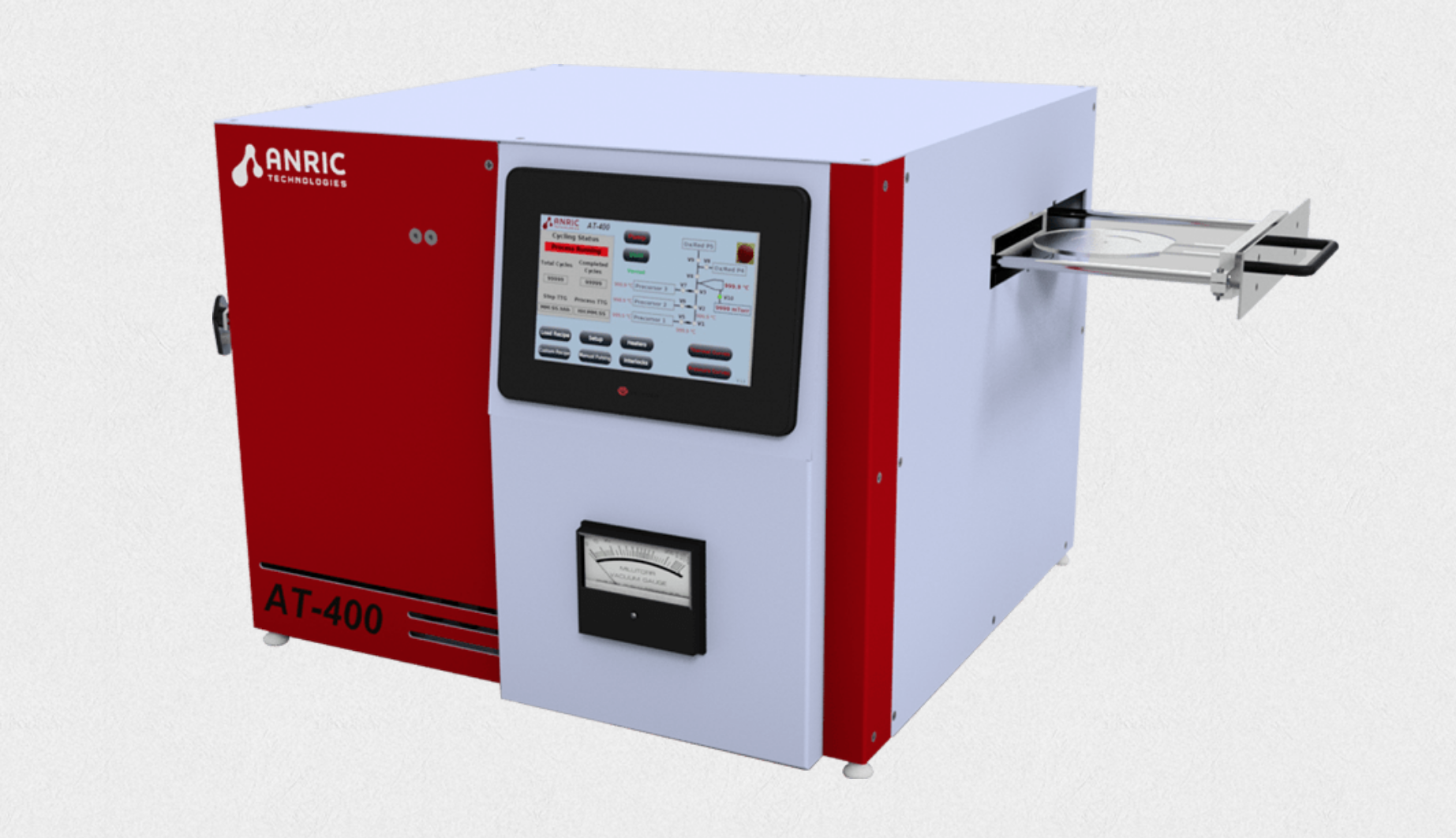 7"


TOUCHSCREEN


PLC control system



PRECISE


PRECURSOR


Dosing with defined dose volumes

HIGH
QULAITY

DESIGNED
for growth on small samples
4"
,
6"
,
8
"
UP TO
DIAMETER
SAMPLE
Variable Process


Pressure Control


0.1 to 1.5


TORR
UP TO

5


PRECURSORS

STANDARD
ALL


METAL


Sealed System



Upstream of Sample
⦿

Chamber temperatures from RT to 325 °C ±1 °C;
Precursor temperatures from RT to 150 °C ±2 °C
(with heating jacket)
---
⦿

Smallest footprint on market (2.5 sq ft),
bench top installation and cleanroom compatible
---
⦿

Simple system maintenance and
lowest utilities and precursor usage on market
⦿

Streamlined chamber design and small chamber volume


---
⦿

Fast cycling capability (up to 1.2 nm/min Al2O3) and
high exposure, deep penetration processing available
---
⦿

Full HW and SW interlocks for safe operation even in
multi-user environment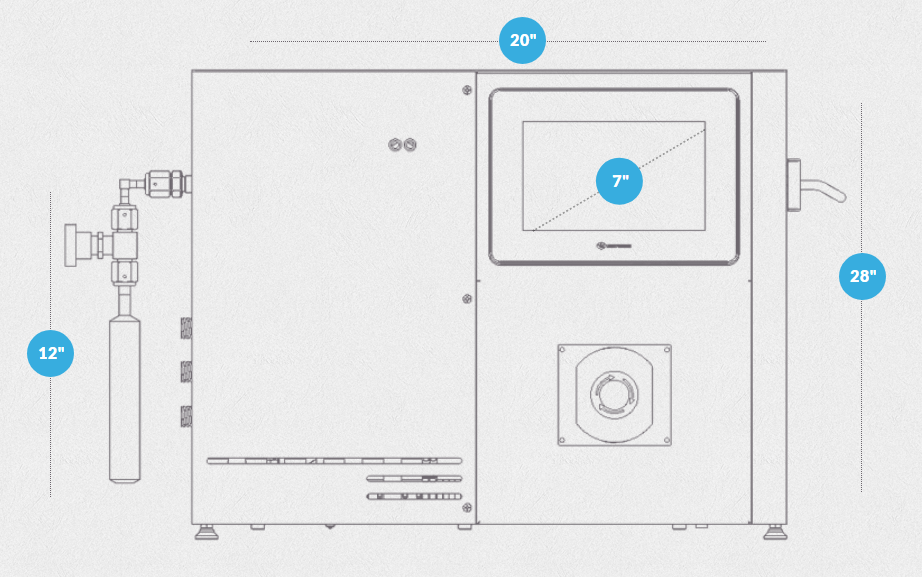 SPECS
DESIGN & FEATURES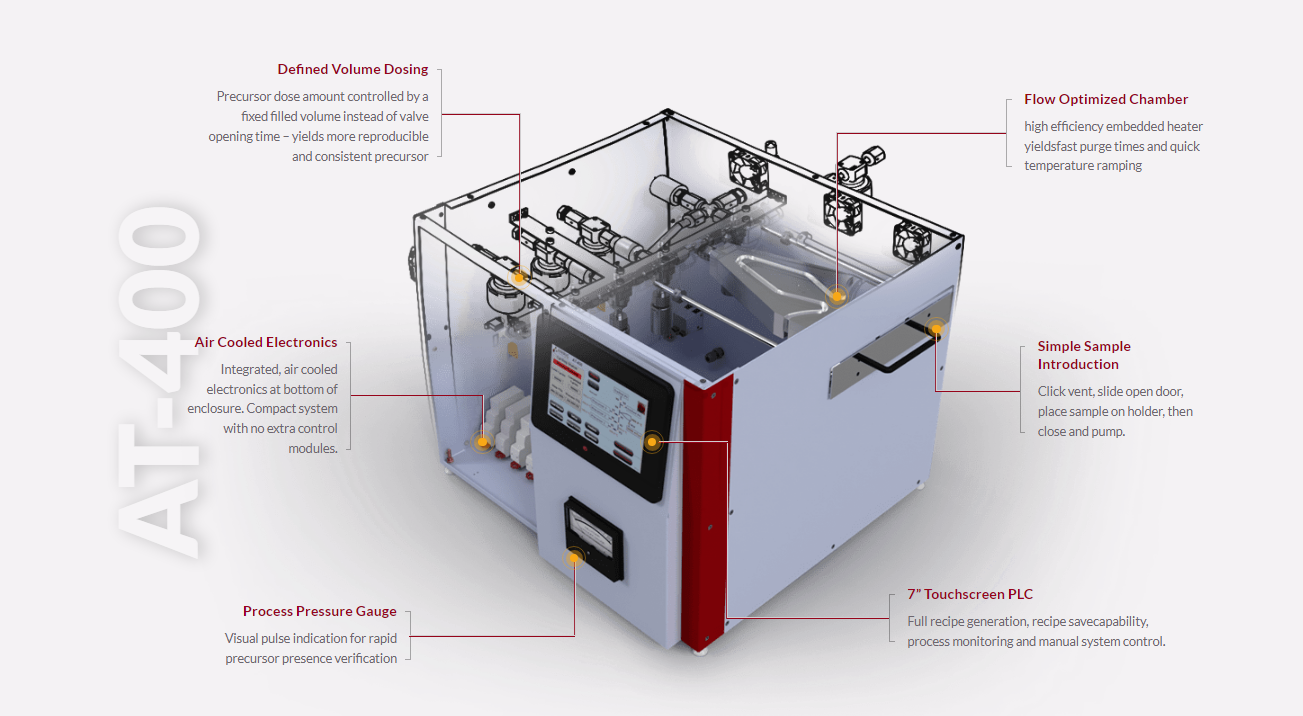 THE TOOL CAN DEPOSIT A WIDE BREADTH OF MATERIALS
| MATERIAL CLASS | STANDARD RECIPES | RECIPES IN DEVELOPMENT | SYSTEM CAPABLE MATERIALS |
| --- | --- | --- | --- |
| Oxides (AxOy) | Al, Si, Ti, Zn, Zr, Hf | V, Y, Ru, In, Sn, Pt | Li, Be, Mg, Ca, Sc, Mn, Fe, Co, Ni, Cu, Ga, Sr Nb, Rh, Pd, Sn, Ba, La, Pr, Nd, Sm, Eu, Gd |
| Elementals (A) | Ru, Pd, Pt, Ni, Co | Rh, Os, Ir | Fe, Cu, Mo |
| Nitrides (AxNy) | Zr, Hf, W | Ti, Ta | Cu, Ga, Nb, Mo, In |
| Sulfides (AxSy) | | | Ca, Ti, Mn, Cu, Zn, Sr, y, Cd, In, Sn, Sb, Ba, La, W |
| Other Compounds | AZO (AL:ZnO), AxSiyOz ()A=Al, Zr, Hf | YSZ (yttria stabilized sirconia) ITO | Many others |
『

System ships with several of the

standard recipes pre-loaded

in the controller

』
『

Exact mix

of recipes TBD during purchase discussion

』
『

Process development

support available for all system capable materials and user defined device requirements

』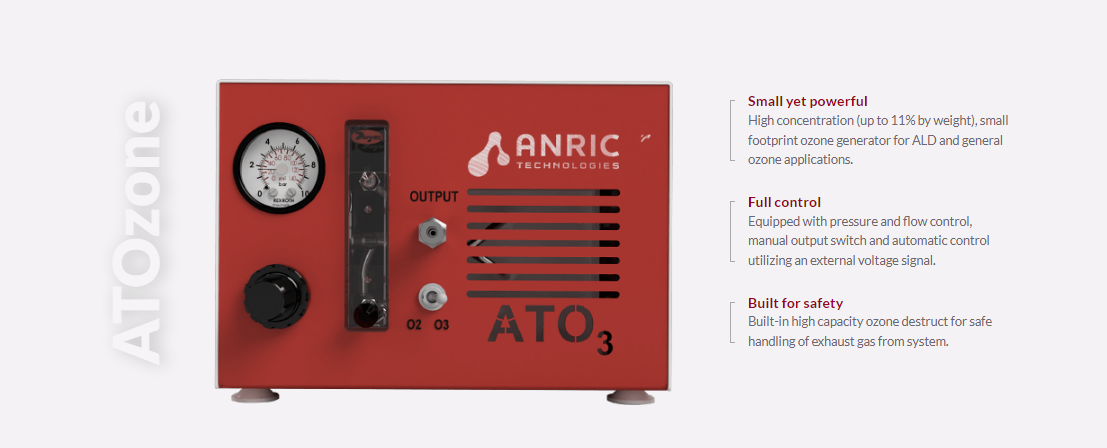 ALTERNATIVE TO SPUTTERING FOR TEM AND SEM SAMPLE PREPARATION
AVAILABLE WITH AT410 ALD SYSTEM
Samples for electron microscopy often benefit from the addition of a thin film. It is typically a conductive material such as Pt, Pd, or Au. These conductive layers can help to inhibit charging, reduce thermal damage caused by localized beam heating, and improve the secondary electron signal.

Traditionally these films have been grown using PVD techniques. As technology advances, some types of samples are not served by PVD because the features that need to be coated are not accessible to line-of-site growth.

Researchers will benefit from having access to conductive thin films grown by ALD now that a system optimized for small sample conductive metal growth (with a price point in the same market as benchtop sputtering) has been developed - the AT410.

The AT410 ALD system provides a solution to conformal, conductive thin films for 3D sample prep while also providing traditional 2D coatings that are currently grown using sputtering/evaporation. The AT 410 not only pushes the boundaries, but is also an effective replacement for current sample preparation processes all within a benchtop configuration at a comparable price point.
---
Precursor Bottle
Stainless steel precursor bottles have an open volume of 50 cm3 and are manufactured with high flow VCR fittings
Shutoff valve on bottle is available as a ball valve or as a bellows sealed valves. Bellows sealed valve option is now standard.
Bottles can be utilized at temperatures up to 200 ºC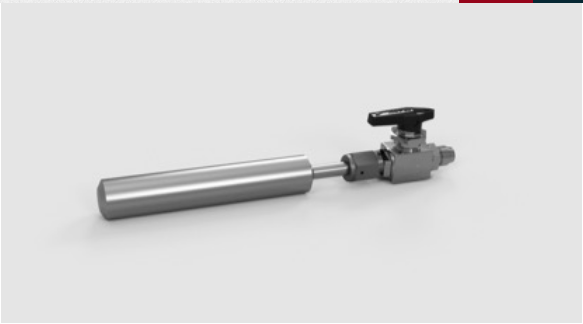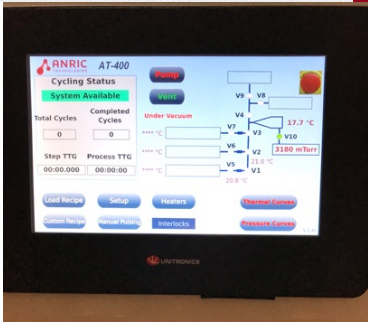 System Controller
The AT410 / AT610 / AT810 ALD system utilizes an advanced PLC/HMI control unit with a high resolution 7" touchscreen display. The user would have complete control over the operation of the tool, recipe generation, and sensor data all through the easy to use and robust control SW interface.
Tray
Custom designed sample holders are available as additional options. All sample holders made from 6061 aluminum for superior thermal conductivity and uniform temperature profile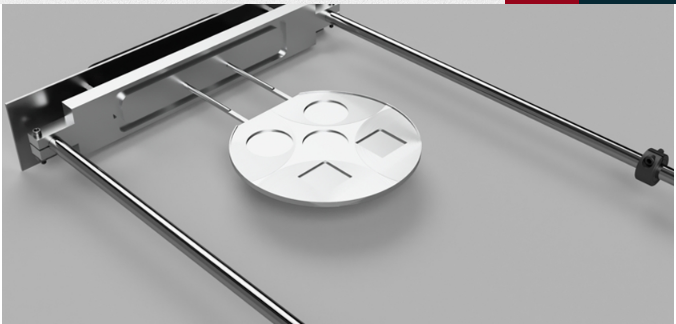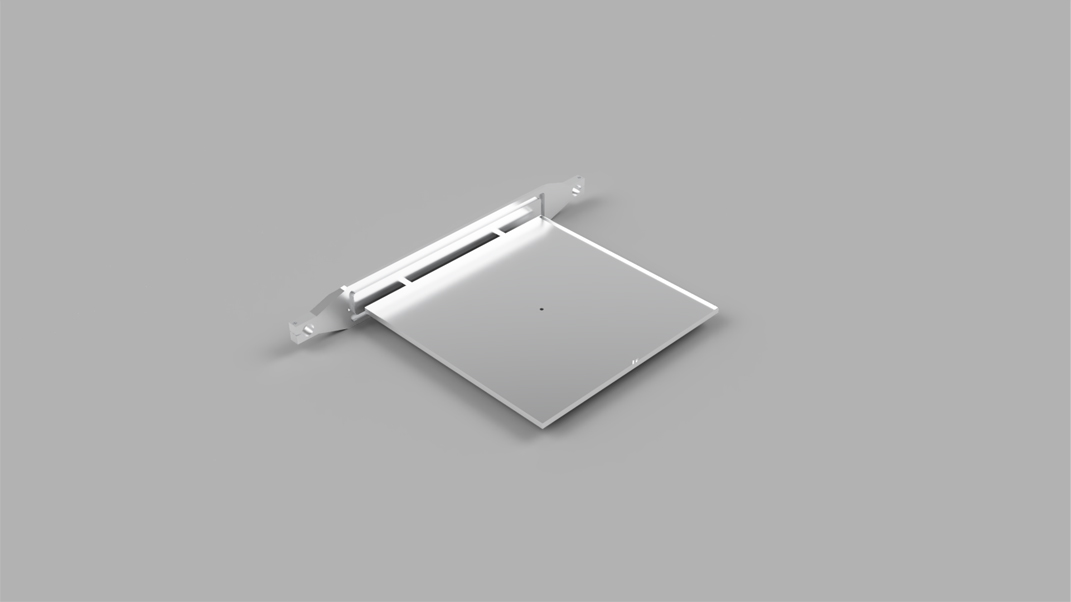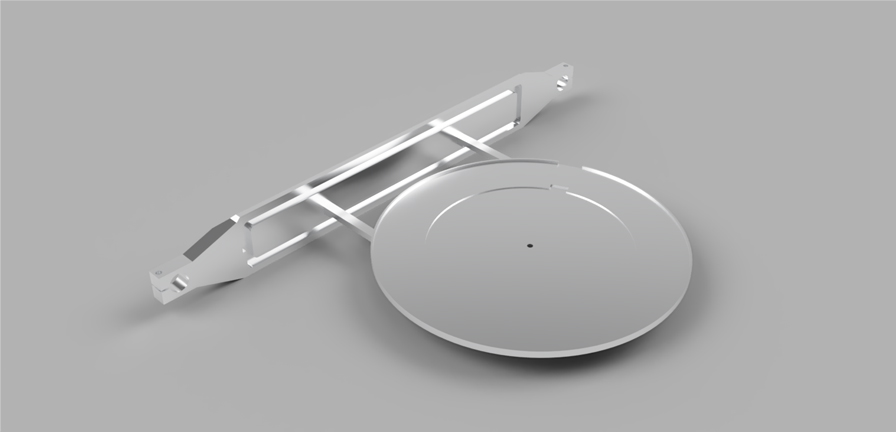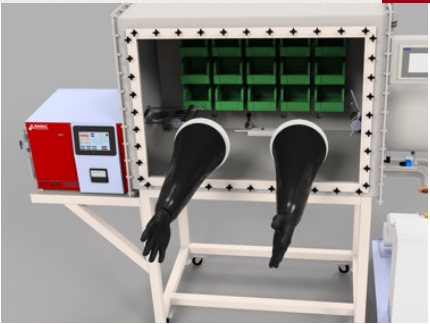 Glove Box Integration
A standard AT410 / AT610 / AT810 can be attached to a glove box with a glove box adapter upgrade. The system is sealed to an open side of a preexisting or new glove box.
The deposition chamber and sample holder are completely sealed within the inert gas environment
Air sensitive materials and substrates can be handled and deposited with utmost confidence
100% of the glove box floor and shelving will remain accessible after installation of ALD system
Further information available from our partner company LC Technology Solutions
Recipe Generation
Recipes can be written and saved directly on the touchscreen. A quick start recipe screen with default settings and fully customizable recipe input are available. Multilayer and multicomponent recipe control is also standard.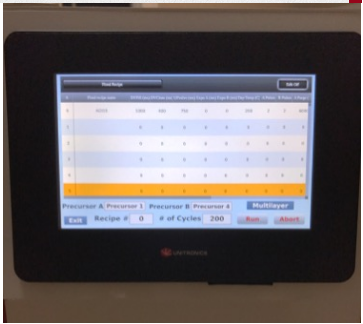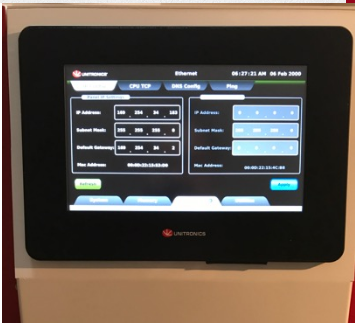 Remote communication
Provided with an ethernet connection, the AT410 / AT610 system interface can be connected to remotely by engineers at Anric Technologies for remote troubleshooting and software upgrades. Upgrade can also be performed using a standard USB drive connected into the communication hub built-in to the back of the tool. Lifetime SW upgrades are included in the base price of the system.
---
Systems Comparison
New AT200M

AT410/610/810

New AT 650T

New AT 650P

Desktop (W: ~11" (27.9cm) x D: 15" (38.1cm) x H: 14.5" (36.8cm))
Desktop (W: 23" (58.6cm) x D: 23" (58.6cm) x H: 15" (40.5cm))[610 D: 25″ (63.5cm)]
Desktop (W: 15" (38.1cm) x D: 15" (38.1cm) x H: Less that 38" (96.5cm))
Desktop (W: 15" (38.1cm) x D: 15" (38.1cm) x H: 38" (96.5cm))
Sample Size = 2 inch (x2) up to 2 x 2 x 2" volume
410 = 4 inch; 610 = 6 inch; 810 = 8 inch
6 inch
6 inch
Thermal to 290°C
Thermal to 320°C
Thermal to 400°C
(upgradeable to Plasma)
Plasma and Thermal to
400°C
One Precursor/Two Counter
Reactants
Three Precursors/ Up to Three Counter
Reactants
Four Precursors/Four
Counter Reactants
Four Precursors/Four
Counter Reactants
Heated Precursor to 150°C
Heated Precursor to 180°C (N2 Assist Available)
3 Precursors to 185°C (with optional pressure boost) , 1 at RT
3 Precursors to 185°C (with optional pressure boost) , 1 at RT
All stainless steel chamber and metal sealed stainless lines
All aluminum chamber (hot walled) and metal sealed stainless lines
All aluminum chamber (warm walled) and metal sealed stainless lines and chuck
All aluminum chamber (warm walled) and metal sealed stainless lines and chuck
Heated lines and fast pulsing ALD valves
Heated lines and fast pulsing ALD valves
Heated lines and fast pulsing ALD valves
Heated lines and fast pulsing ALD valves
Ultrafast MFC
Ultrafast MFC
Up to four ultrafast MFCs
Up to four ultrafast MFCs
5" Display w. Integrated
PLC
7" Display with integrated
PLC
10" Display with integrated
PLC
10" Display with integrated
PLC
LATEST
DATA POINTS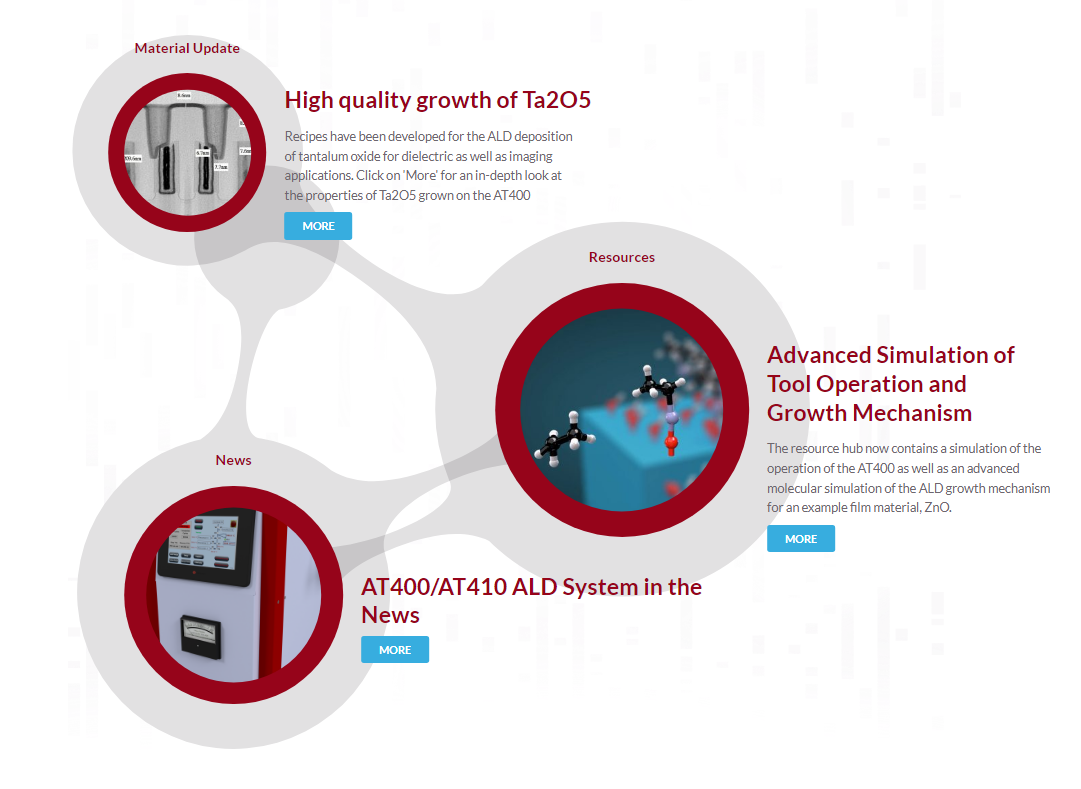 ANRIC TECHNOLOGIES
FILM GROWTH LIBRARY
Ta2O3 Tantalum Oxide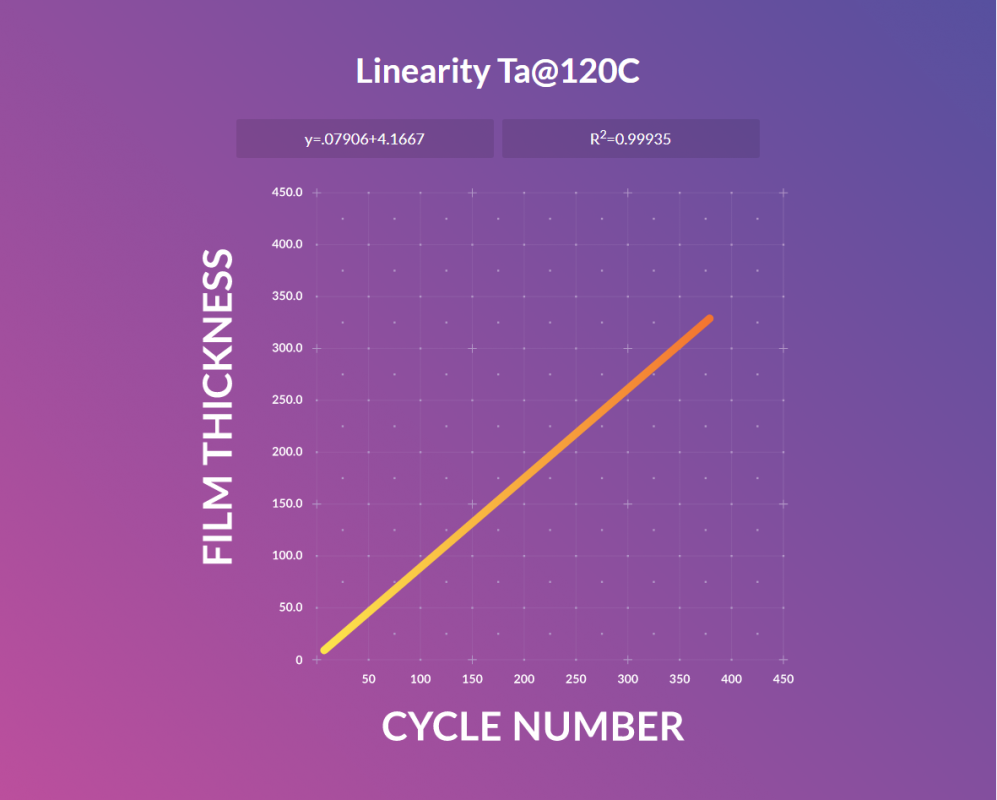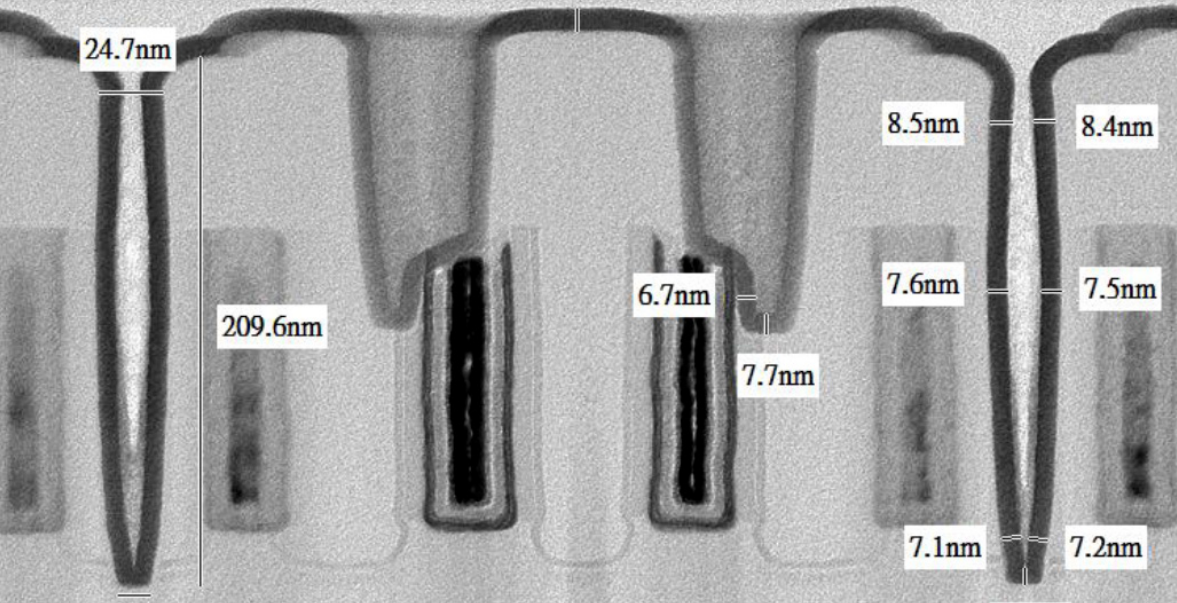 Tantalum Oxide
Ta2O3
GROWTH APPLICATION
HIGH-K
(r=30-40)
Oxide material for use
as a gate dielectric
HIGH Z MATERIAL
Highlighting interfaces in
TEM
analysis
Anric Technologies
ALD
Atomic Layer Deposition
KNOWLEDGE